Facelift surgery or the so-called rhytidectomy is a very popular invasive procedure that can significantly tighten saggy skin and improve visible signs of ageing. But did you know that besides this classic method, there is a minimally invasive treatment that can help you achieve the same results? The procedure is known as face thread lift, and as the name suggest, it is done with special surgical threads.
Since face thread lift is less invasive and less expensive than the surgical approach, this procedure is gaining great popularity in Singapore.
Curious to know more about this rejuvenating treatment? In this article, you can find out more about face thread lift in Singapore. We will take you through what is a thread lift, how it is done and what are the benefits of this treatment method.
We will also answer some of the most commonly asked questions about face thread lift.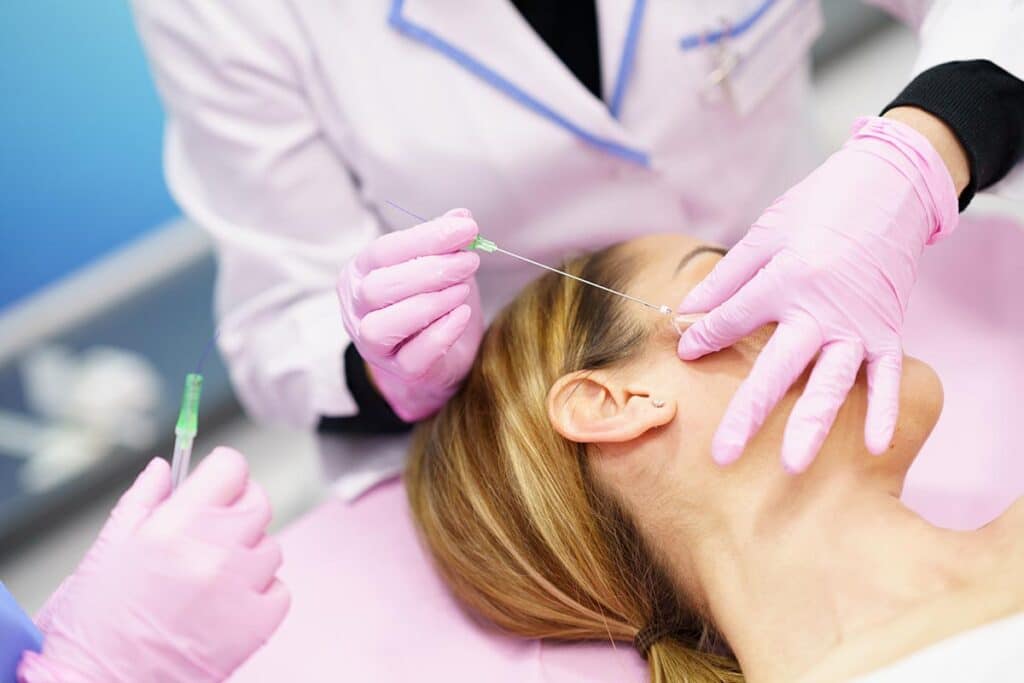 What is a face thread lift?
Face thread lift is a minimally invasive cosmetic procedure that aims to sculpt the face and neck and restore the youthful appearance of facial skin. During the treatment, the plastic surgeon lifts and tightens sagging skin by using special sutures (threads). These sutures pull the facial soft tissue back, resulting in a more rejuvenated, proportional and sculpted face.
In addition, the threads promote the natural production of collagen. Face thread lift is a very safe, convenient and efficient procedure.
How is thread lift procedure done?
Keep in mind that different surgeons may use different thread lift approaches. However, the basic steps are typically the same.
Before starting the treatment, the plastic surgeon applies local anaesthesia in order to eliminate any pain and discomfort.
Once the area is numbed, the sutures are inserted into the soft tissue (beneath the skin). It is usually done with the help of a small cannula or needle.
After the threads have taken their place, the surgeon will take out the needle, and you can go back to your normal activities.
The sutures used for the procedure are dissolvable threads. They are usually gradually absorbed by the body without causing any side effects on the skin tissue. The dissolving process may last between 6 months to a year. After that, the new connective tissue is formed in the place of the threads, which maintains the effect of the treatment
Types of threads
There are 3 different types of threads that can be used for the thread lift procedure called PDO, PLA and PCA. Each type has different properties and is used to obtain different results, depending on the patient needs, skin type and skin texture. There are threads that mainly stimulate collagen production, threads that lift the face or treat deep wrinkles, etc. The combination of sutures for each patient is chosen by the doctor, depending on the skin condition and the desired transformation, because each patient has an individual need.
PDO (polydioxanone). This is the most commonly used type of thread. It is best for repositioning and skin rejuvenation.
PLA (L-lactic acid). These type of threads is best for skin tightening, lifting and contouring the midface soft tissues. They also have the ability to stimulate collagen synthesis.
PCA (Polycaprolactone). They are usually more durable than PDO and PLA – they can last up to 2 years. They are usually used to lift sagging skin and improve its elasticity and texture.
Thread lift midface in Singapore
Thread lift procedure is commonly used for lifting and repositioning of the mid-face soft tissue – nose, cheeks and upper lip. With age, we usually lose volume under the eyes, around the cheekbones and cheeks, which respectively affects the contour of the face. In fact, this is mainly due to the loss of collagen and fat. Normally, young people have enough collagen and elastin in their body, which keep their skin firmer and smoother.
However, over time, collagen and elastin levels decrease, and it leads to weakening and loss of volume in the soft tissue. Thread lifting stimulates the body to produce collagen, which makes this procedure very suitable for rejuvenating and repositioning the central portion of the face. By lifting the mid-face, you can achieve that beautiful V-shape face.
What are the benefits of the procedure?
Facial thread lift is a very safe procedure. It is a non-surgical procedure, so that it does not require any incisions on the skin or the use of general anaesthesia. It is not associated with any serious complications. The recovery time is also greatly shortened. You may just have mild bruising and redness following the treatment which will fade really quickly. You will be advised to limit strenuous activity and facial motions for the first few days.
It is a painless treatment. This procedure is not painful at all. It is done under local anaesthetic, so you won't experience any pain. You may feel a kind of discomfort following the treatment.
It is a convenient facial rejuvenation treatment. Thread lift is a simple and quick method to lift and sculpt your face and neck. It is done for around 45 minutes to 1 hour, so you can do it even during your lunch break. After the procedure, you can safely go back to your daily activities.
You have immediate results. The great thing about thread facelifting is that you can see the outcome right away after the treatment. The skin is lifted and tightened, and the face has a nice shape and better proportions. However, these are not the final results. Over the next 2-3 weeks, you will continue to see improvements. The final results of the treatment can be seen after 3 months.
This is a cost-effective procedure. Face thread lift is much cheaper than a surgical facelift. The costs for thread lifts in Singapore usually vary widely and depends on many factors such as the clinic you choose, the type of thread used during the procedure, the treated area and so on.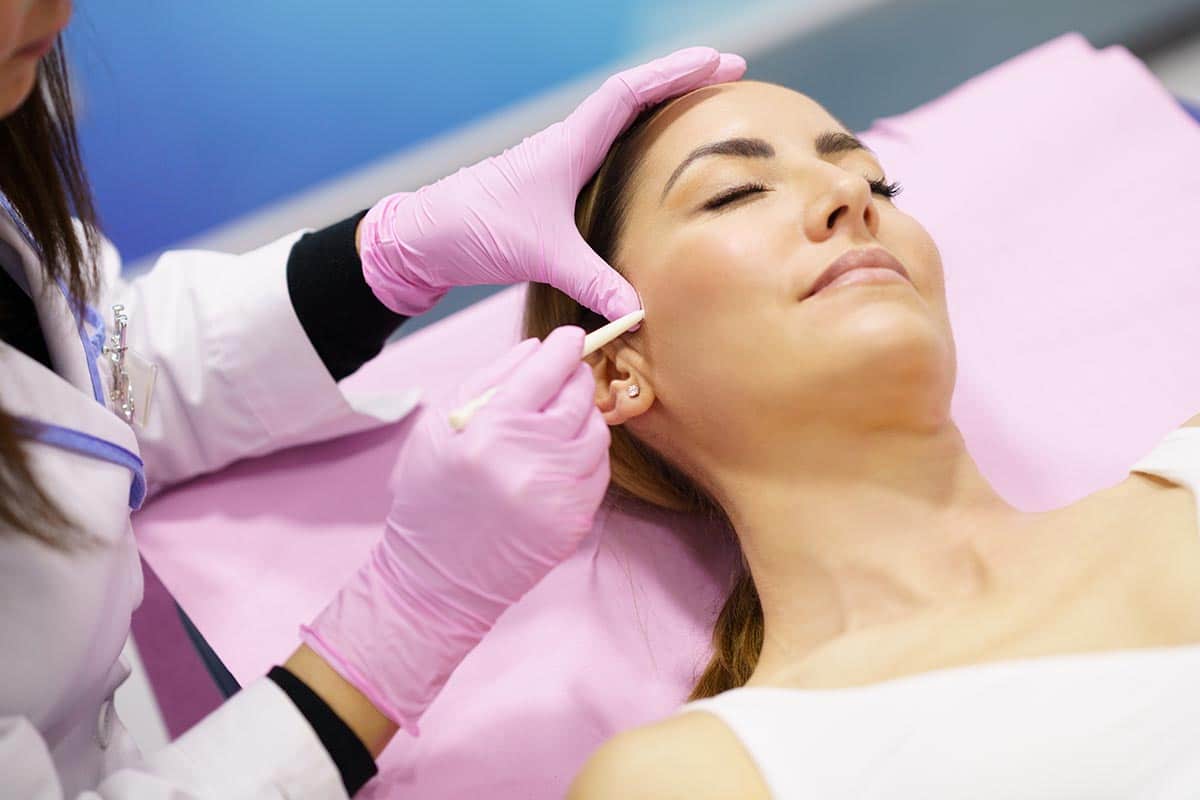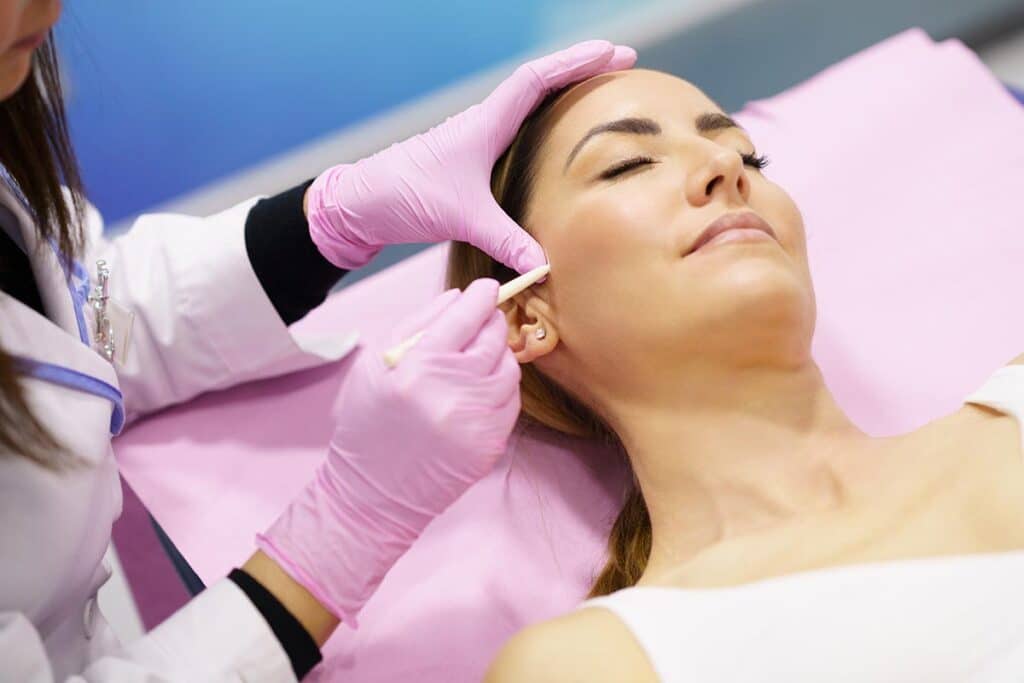 Other frequently asked questions
How long does thread lift last?
The results from PDA thread lift typically last between 6 months to 1 year. PLA and PCA threads tend to produce longer-lasting results – up to 2 years.
Are the threads visible?
No, you won't have any visible threads. They are inserted into the subcutaneous layer of the skin, which means that it is not possible to see them.
What type of threads is best for the mid-face?
PLA threads by Silhouette Soft are commonly used to lift and improve the skin of the midface. Silhouette Soft are a great option when you want to achieve better shape and contour of the face.
How many types of PDO sutures are there?
The PDO threads are divided into 3 different types – mono threads, cog threads and screw threads. Mono threads are soft threads mostly used to reverse skin laxity. Cog or barbed threads are best for lifting loose skin. Screw threads help restore the volume of the face.
What is the best age to get a thread lift treatment?
Almost anyone can get a thread lift procedure, but most people who undergo such treatment are in the range of 30 and 60 years old.
In case you have mild to moderate loose or sagging skin on the lower face or midface, and you want to avoid surgical procedures, then face thread lift might be right for you. However, if you are interested in this procedure, it is best to consult a plastic surgeon who will determine whether you are a good candidate for it.
Is a thread lift worth it?
Thread lift is an aesthetic treatment that is definitely worth it. It allows women and men to achieve much more youthful–looking facial profiles without having surgery. This is a quick and painless way to pull the jawline, jowls, and chin right up close to the bone.
Still, it is important to note that the procedure may not give great results to individuals who have severe sagging facial tissues. Those people are more likely to benefit from facelift surgery.