Did you know that in about 50% of women, one breast is slightly larger than the other? This is just a normal asymmetry which does not cause any health concerns. Most of the time, ladies are not even aware of that, simply because the difference is so subtle that it is hard to discern.
In some women, however, one breast is noticeably larger than the other. Oftentimes, this leaves them concerned not just about their appearance and body image but also about their breast health.
In this article, you will learn what might be the reason for uneven breasts, what are the possible treatment options as well, and whether you should worry about such an issue.
What is breast asymmetry?
Breast asymmetry is a visible difference in the size of both breasts. It is a common problem among women and can happen due to a variety of reasons.
In most cases, the imbalanced breast size is not something you need to be concerned about. Teenage girls and pregnant women often experience uneven development due to hormonal changes.
However, the increased density in one or the other breast might sometimes be a sign of a health problem. In any case, it is best to see a doctor if you notice asymmetry or any other changes in your breasts.
How to fix uneven breasts?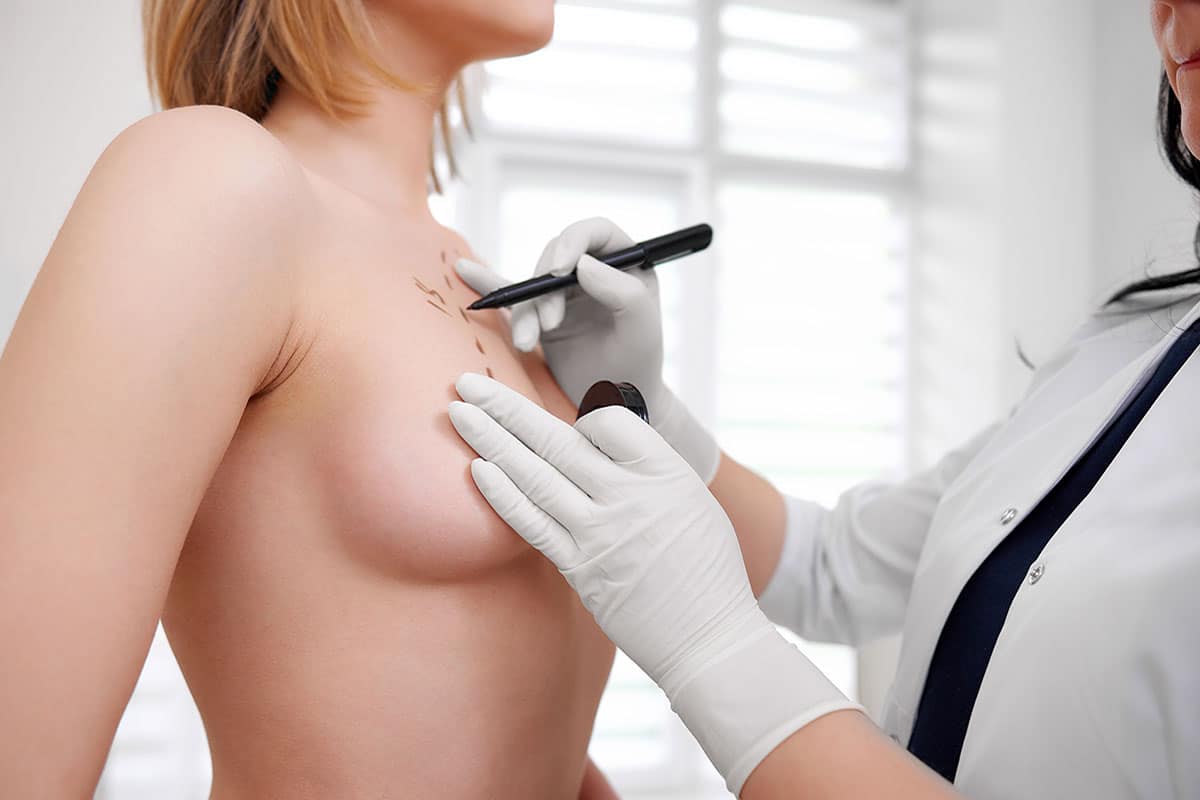 Nowadays, plastic and reconstructive surgery offers a number of treatment options for breast asymmetry, including breast augmentation, breast reduction and breast lift. Each of these cosmetic procedures serves a completely different purpose.
Which plastic surgery works best for you depends on what is your exact problem and what is your goal - whether it's to have two large breasts, two small breasts, or something in the middle. For the best advice, consult with a board-certified plastic surgeon.
Breast augmentation
When it comes to breast augmentation in Singapore, you basically have two options – getting saline or silicone implants or undergoing a breast fat grafting (fat transfer) procedure.
If the difference between your two breasts is larger and you definitely prefer a bigger bust size, then breast implants might be the best solution for you. You can have an implant in one of your breasts (the smaller one) to make it symmetrical to the larger breast. But if you would like to have even bigger breasts, you may increase both of them with implants by placing a smaller implant into the bigger breast and a larger one into the smaller breast.
If you just want to slightly increase the size of your breasts, then you can opt for fat transfer breast augmentation. It is a breast enlargement technique where the plastic surgeon takes fat from a certain part of your body and injects it into your breasts. The fat grafting procedure typically provides more natural results. However, it cannot give you the same level of enlargement as breast implants.
Breast reduction
If your breasts are moderately asymmetrical but you are generally satisfied with your current cup size, then breast reduction might be your best bet. Using this procedure, the plastic surgeon can make your larger breast match your smaller one.
Breast reduction surgery might also be a great solution for you if you have asymmetric breasts which are also heavier and larger than you would like them to be. The plastic surgeon can remove excess fat and skin from breasts to make them appear smaller and equal in size.
However, one potential risk of this kind of breast surgery is that, in some cases, it may affect breastfeeding. Therefore, if you are planning to become pregnant, you should discuss this with your doctor. Many times plastic surgeons can use different surgical approaches in order to prevent breastfeeding problems in the future.
Breast lift
If your breasts appear uneven because of sagging, then a breast lift procedure might be an ideal option for you. Sometimes your breasts may look asymmetric even if their size is similar. This often happens due to sagging of the breast tissue after pregnancy, breastfeeding or just because of the natural ageing.
Using breast lift surgery, the doctor can remove the sagging breast tissue and lifts the breasts to a higher position so that they look perkier and more balanced.
If your breasts are considerably asymmetrical and at the same time saggy, then you may want to consider getting breast augmentation with a breast lift. By combining these two surgical procedures, you will be able to achieve a more youthful appearance to your breasts and improve their size and shape.
How to balance your breasts if you are breastfeeding?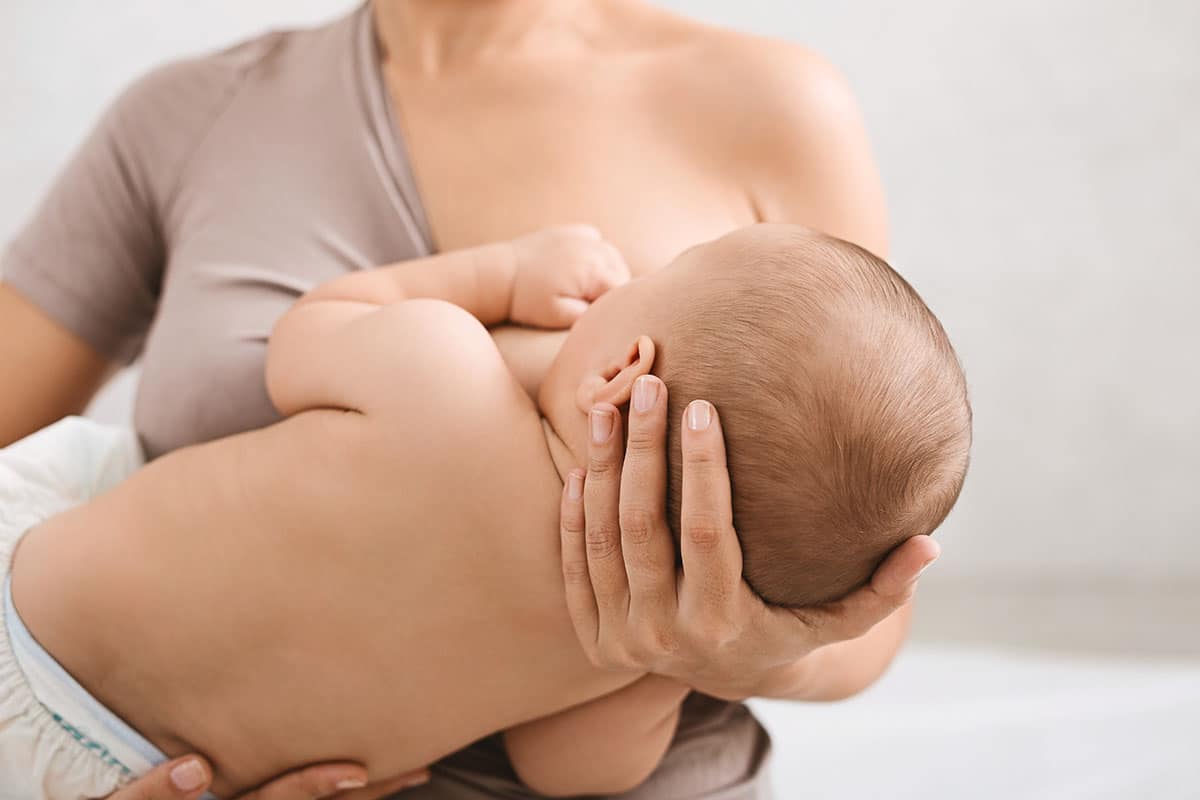 Many women who are breastfeeding experience changes in their breasts. This is normal and is typically caused by hormonal fluctuation.
In case you notice that one of your breasts is a little bit larger than the other, then you can try some of the tricks listed below in order to achieve balance.
Use your smaller breast more frequently
Breast asymmetry during nursing commonly occurs when the newborn prefers one breast over another. The more frequently used breast typically appears larger due to the more milk production. This is why you may try to feed with your smaller breast more regularly. Your breasts should start appearing equal after a few days.
Pump your smaller breast after nursing
As we said, the more milk your breast produces, the larger it will be. Using a breast pump on your smaller breast will help you increase its milk production and make the breast larger.
Try to feed with each breast the same amount as the other
Your breasts will remain symmetrical in case they produce similar amounts of milk. That is why it is best to try to alternate your breasts between nursing sessions so that you use each breast equally.
Consult with a lactation specialist if you have a problem with milk supply
Seeking advice from a lactation consultant is always a good idea when you are experiencing any problems with breast milk supply. Such specialists can give you the best advice when you have a lower milk production in one or both breasts. They can suggest you proper feeding techniques so that both you and your baby have a positive breastfeeding experience.
What are the causes of uneven breasts?
Breast asymmetry can be caused by a variety of factors, both medical and non-medical. Here are some of the common reasons for having uneven breast size.
Hormonal changes during puberty and pregnancy
Significant weight loss or weight gain
Trauma
Some medical conditions that may cause changes in the breast tissue include:
Mastitis - breast infection which usually occurs during nursing
Juvenile Hypertrophy - a condition in which one of the breasts is significantly larger than the other one
Atypical Ductal Hyperplasia - excessive growth of the milk ducts (it is not breast cancer)
In some cases, significant breast asymmetry which occurs suddenly can be a sign of breast cancer.
Should you be concerned about breast asymmetry?
Minor degrees of breast asymmetry, where one breast is a little bit larger than the other, are very common and usually benign. In fact, almost all women have slight differences in the size and shape of both breasts.
However, in some people, the abnormality is much more obvious. This not only makes them feel uncomfortable but also worrisome. In such cases, it is wise to get it checked. Sudden development of asymmetric breast tissue might also be a sign of any issue, so it should be examined by healthcare professionals.
It is best to visit a breast surgeon who will examine you clinically and tell you whether it is any abnormality is present or not. If there is a problem, you will be recommended to get a mammogram.
If everything is normal and the doctor says there is no abnormality linked to your asymmetrical breasts, you can relax and not be concerned. In case the appearance of your breasts bothers you or makes you self-conscious, you can always have a surgical procedure to make them the same size.
Does breast asymmetry raise breast cancer risk?
Minor breast asymmetry is typically not associated with a higher risk of breast cancer. A significant difference in breast shape and size, on the other hand, may put you at risk for breast cancer.
A study has found that women with breast cancer have a greater breast asymmetry, in addition to other factors like heredity and age. However, there is still uncertainty about the relation between asymmetrical breasts and cancer risk, and more research is needed to clarify it.
So if you have evidently different size breasts, make sure to seek professional medical advice from a doctor.
FAQ