At Shens Clinic, the Ultracel Q+ High-Intensity Focused Ultrasound (HIFU) treatment is a non-surgical face lifting and neck skin tightening procedure. The Ultracel Q+ works by delivering HIFU deep down into the Superficial Musculoaponeurotic System (SMAS) layer without damaging the skin tissues and surface. The SMAS layer is also the same area, which is typically addressed in surgical facelifts procedures.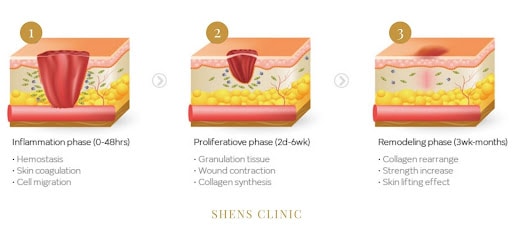 Additionally, the non-invasive ULTRAcel Q+ treatment helps to effectively reduce and break down stubborn fat cells residing under the reticular dermis (hypodermis) layer. The ultrasound waves are able to heat up targeted tissue layers up to 70 degrees Celsius and trigger the formation of new collagen (neocollagenesis).
Further, this contours, lifts and tightens the skin with minimal discomfort and no downtime. Individuals proceed with their daily activities or work immediately after the treatment while looking more fabulous with firmer and healthier-looking skin.
Why Ultracel Q+? 
What sets the Ultracel Q+ apart from the competition of other HIFU machines in the market is the option of a linear cartridge (LinearFirm Technology, Linear HIFU) which is unique to the device. Thus, this enables a three times faster treatment time along with the capability of performing a single shot in under 1.5 seconds.
Pros of Ultracel Q+ Hifu
Quick & Safe Treatment
Non-Invasive
Minimal Discomfort
No Downtime
Long-Lasting Results
Tightens & Contours Skin
Lifts & Smoothen Skin For A More Youthful Appearance
Reduce Appearance of Fine Lines & Wrinkles
All in all, Ultracel Q+ (Hifu) would be an ideal treatment for individuals who aren't ready for surgical procedures but in search of non-invasive alternatives for facial fat reduction, contouring, lifting and skin tightening. It gives individuals the chance to achieve a more youthful appearance from a deeper level, without the high costs and downtime.
For more information about the Ultracel Q+ (HIFU) treatment at Shens Clinic, feel free to contact our customer support team via WhatsApp, Facebook Message, Instagram Direct Message or our Hotline.