What is Rejuran Healer Treatment?
Rejuran Healer is an effective anti-ageing injectable for skin rejuvenation made of polynucleotide (PN), an important component of DNA.
Originating in South Korea, it is an upgraded version of Polydeoxyribonucleotide (PDRN). As it is obtained from salmon DNA, it activates the self-recovering capability of the skin by improving the thickness of the epidermis and dermis and overall skin elasticity.
The procedure works by injecting the salmon DNA skin-boosting injectable into the foundational layers of the skin and thus providing it with chains of polynucleotides. There is no hyaluronic acid here; instead, the active ingredient is based entirely on DNA. What these DNA fragments do is spur faster tissue and cell regeneration. They are compatible with human skin.
As we age, the skin barrier weakens owing to UV rays, free radicals, ageing, and loss of collagen. When it is not doing its job properly, the skin is unable to lock in moisture and nutrients, so it becomes dull, dry, and damaged.
Rejuran treatment promotes collagen secretion to recover thinned and damaged skin cells caused by ageing and various external stimuli. As well as that, it enhances skin elasticity. The molecules of PN come with omega-3 fatty acids that contain antioxidant properties and further improve skin quality. Plus, they boost skin healing.
There are several types of Rejuran currently available in Singapore; each treatment has different properties and targets different conditions.
Rejuran Healer induces skin healing and rejuvenation;
Rejuran I (Eye) acts on fine lines and wrinkles around the eyes;
Rejuran HB (Hydro Boost) is effective in hydrating and regenerating the skin, and
Rejuran S (Scars) is designed to diminish acne scar appearance.
Shens Clinic has performed the Rejuran Healer procedure for many customers over the years here in Singapore.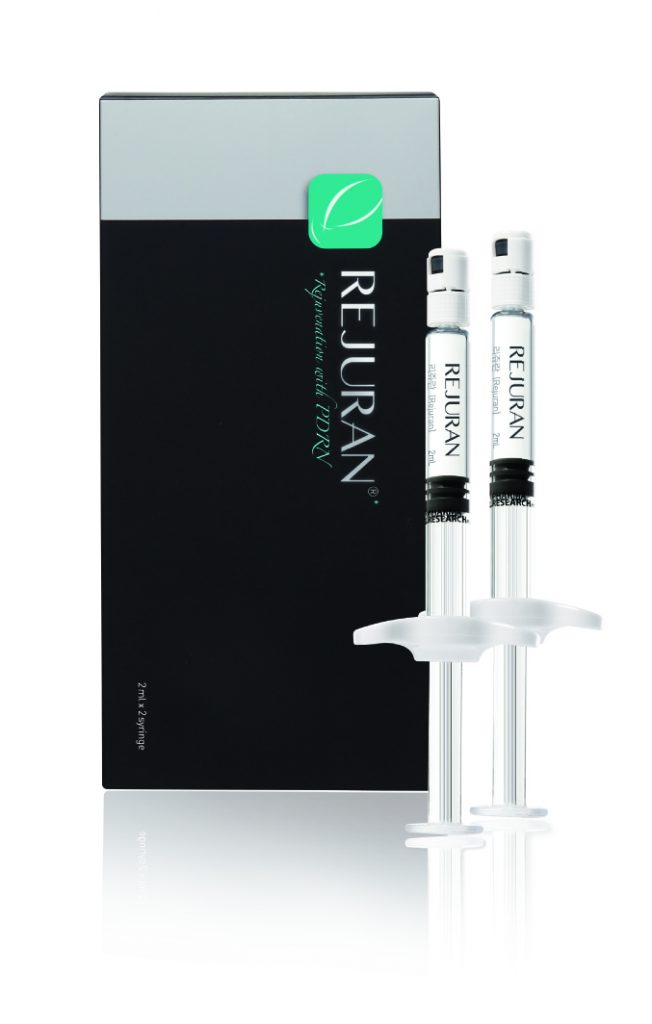 What is the Anti-Aging Treatment Process?
First off, the skin is cleaned and prepped with numbing cream, which allows the procedure to be painless. A small needle is used for the injections. The entire process takes about 20 minutes. To reduce the downtime, the patient may opt for LED light therapy or cryotherapy, both of which can activate collagen stimulation and additional skin rejuvenation.
With little to no downtime, for post-treatment, patients are able to head home right away. They are free to go back to work too. The Rejuran Healer treatment is performed in 3-6 rounds, 4 weeks apart, for optimal results.
Benefits of Rejuran Skin Healer
Rejuran Healer contains salmon DNA, thanks to which the treatment offers plenty of benefits:
Has skin lightening effect
Improves skin texture, density, and elasticity
Improves fine lines
Recovers protective skin layer
Balances oil and moisture of the skin
Reduces pores and sebum
Reduces dead cells
Clarifies skin tone
Improves wound healing
Apart from the face region, including the eye area, Rejuran Skin Healer has shown great effectiveness in the treatment of wrinkles on the neck or back of your hands. It will greatly enhance thin and damaged skin.
Efficacy and Duration of Rejuran Healer Treatment
Rejuran is a semi-permanent treatment that can have positive effects on the skin. The collagen production is revved up as a result of the injection, and the results are often long-lasting. However, individuals may need to come back to the clinic for subsequent maintenance as our body's collagen production slows down due to the natural ageing process over time. Hence, the results and permanence of the injection may vary for individuals.
How Long does Rejuran Healer Last?
For some, the anti-ageing effects of Rejuran Skin Healer will begin to abate after a year following the treatment; for others, this will happen earlier.
Who is Suitable for Rejuran Healer Treatments?
An ideal candidate for the Rejuran Healer treatment is someone with dull, saggy skin or individuals who are troubled by fine lines and wrinkles. The treatment is great for enlarged pores, sensitive skin, and even acne scars. Anyone who needs a skin healing treatment and is otherwise healthy can take advantage of this skin rejuvenation treatment. Please note that this one is not targeted at people with acne scars. If you are troubled by acne conditions, the other range of Rejuran treatment, Rejuran S, will be more suitable for you.
How Much Does Rejuran Skin Healer Cost?
The price of Rejuran Skin Healer varies from clinic to clinic. The final quote is determined by a patient's individual needs. Contact Shens Clinic for more details and a free estimate.
Is It Painful to Apply Rejuran Healer?
The treatment process of Rejuran Healer tends to be painless since numbing cream is applied to the face prior to the treatment. It serves to minimise pain around the injection sites. This applies to Rejuran S, Rejuran HB, Rejuran I, and other skin booster treatments. That being said, you will still feel pressure when the needle is inserted into the skin. Patients may still experience some form of discomfort when the needle is inserted into the skin. Thus, it is largely determined by your pain threshold. In most cases, it is mild to moderate.
What is the Difference between Rejuran Healer and other Skin Boosters?
Rejuran Healer focuses on skin repair by giving the body a vital component to get started: DNA fragments known as polynucleotides (PN) and Polideoxyribonucleotide (PDRN). By contrast, other skin boosters are more often than not made of hyaluronic acid. Their purpose is to add volume, plump up wrinkles, and enhance the secretion of collagen. The treatments have similar injection processes and angles at which the needle is inserted.
However, it should be noted that traditional dermal fillers are administered below the skin rather than into the skin, and they don't use PN and PDRN molecules. Regardless, scientists agree that Rejuran works better when paired with hyaluronic acid skinboosters, and vice versa, so there is no harm in using both treatments simultaneously. On the contrary, you will benefit from it in the long run.
Side Effects of Rejuran Healer
When the Rejuran procedure is over, the injection sites might be slightly swollen and red. Needle marks will fade within a short time. Bruising is uncommon. However, these will resolve within 30 hours post-treatment.
According to clinical studies, there is no reported allergic responses or other immunological reactions for most skin types. However, it is important to notify the doctor if you are currently troubled by any skin conditions or allergies. Hence, Rejuran injectables have also been cleared for safety in Singapore and other countries alike.
If LED treatment or cryotherapy are employed at the end of the Rejuran procedure, then you should be made familiar with their side effects as well.
Improvement of Skin Condition, Fine Lines and Wrinkles after a few Rejuran Treatments
The effects of Rejuran Skin Healer are released gradually as the body is healing from each treatment with PN & PDRN. Here is a breakdown of the improvement of skin condition by weeks:
3-5 days after first administration*
Skin texture softened
Sebum secretion is reduced due to the balance between oil and moisture of the skin
2-4 weeks after second administration*
Skin elasticity improved by self-generation of collagen
Softening of fine wrinkles around eyes and overall face improvement
Pore and dead skin cells reduced
Healthy cell growth
4-6 weeks after third administration*
Natural lifting effect by improvement of skin elasticity
Skin volume filled out straight from the dermis layer of the skin
6-8 weeks after fourth administration*
Rejuvenates skin - gives you healthy skin and improved skin hydration by 15%
Restores the defence barrier of the skin
It is important to mention that the Rejuran skin booster has short-term effects since the skin is a living organ that changes day after day. Hence, if you want to sustain the results of the PN and PDRN, you need to schedule maintenance treatment every 6 months or so, which will have to be done in multiple appointments spaced 4 weeks apart.
Enquire now for a no-obligation quote and private consultation in Singapore, also to view Rejuran healer before and after pictures.