Breast augmentation is the most in-demand cosmetic procedure. In a 2016 report published by the American Society of Plastic Surgeons, breast augmentation remains to be the top cosmetic surgical procedure since 2006. In fact, there's a 4% increase in the number of women seeking breast enhancement procedure compared to 2015.
While there's a growing demand for breast enhancement and acceptance even in conservative countries, there's also this growing list of misconceptions about the procedure, keeping women from getting the procedure that could enhance their look and boost their self-esteem. Many of these misconceptions are inaccurate and could taint the public's perception on those seeking for breast enhancement procedure.
Learning the facts from the myths is a vital part of the process as it will guide you in making an informed choice.
The following are some of the biggest myths and misconceptions about the breast augmentation surgery:
Myth #1: Breast augmentation surgery produces the same results.
Fact: Breast augmentation is never a "one size fits all" procedure. Think of it as shopping for a new lingerie. Even if you pick the same size, products from different manufacturers will feel and look different in you.
Some women approach breast enhancement surgery as a "one size fits all" journey. They go to the same cosmetic surgeon, request for the same size of implants their friend had, thinking it would look good on them too. But breast enhancement doesn't work this way.
The implants used in this procedure are measured in cubic centimeters (cc). It's a measurement of volume and not by bra size. A 400 cc of breast implant could look big on some women and look small on some. It's because other factors play a role here. These include the woman's body frame and natural body dimensions.
Before any breast enhancement procedure, surgeons do what is called 'dimensional planning'.
In dimensional planning, surgeons take the measurements of the client's body to customize the procedure based on their height and weight, height and base width of their breasts, chest or shoulder width, and fitness level.
A good cosmetic surgeon will tailor the breast enhancement procedure based on the client's unique needs. He will make sure that it will be done in such a way that the chosen breast implants are ones that look most natural on the client.
Myth #2: The results won't look natural.
Fact: Some women are still apprehensive about getting a boob job because they think it won't give them a natural look.
This may be true in the early days of breast augmentation especially with the old versions of saline implants. But these days, with technological advancements, this is far from the truth.
Breast augmentation in Singapore will give you the most natural look, given the range of options you have when it comes to shape, size, and profile.
During consultation with your cosmetic surgeon, your goals after breast enhancement will be evaluated. Depending on your needs, you may be recommended to have the implant either over or under the pectoral muscle.
Generally, breast implants placed under the muscle give the more natural look as the overlying tissue smooths out the surface of the implant. Implants placed under the muscle also create a more sloping than rounded look, mimicking the natural curve of the breasts.
How natural the breast implant would look also depends on the shape. You have the choice to choose between teardrop or round-shaped implants. Although both shapes can create a natural look, the teardrop-shaped look more natural than the rounded one as it mimics the natural slope of the breasts.
Myth #3: Breast implants are not for women who plan on breastfeeding.
Fact: Women, especially those in their 20s and 30s, can get apprehensive in getting breast implants because of this. But the truth is, you can still breastfeed even if you have breast implants.
Studies have shown that there is no medical risk involved for babies breastfed by mothers have either saline or silicone breast implants. Milk supply may be affected but still depends on the location, orientation, and extent of the surgical incision.
If you're planning to breastfeed your child, there are certain techniques your cosmetic surgeon can apply to minimize the effects of the implants on nipple sensation and breastfeeding. Some of these techniques include doing an incision in the breast fold under the breast (inframammary incision) or in the armpit (axillary incision), placing the implant under the muscle, or choosing a smaller implant to prevent wide dissection and avoid disruption of the nerves responsible for nipple sensation.
Myth #4: It's painful.
Fact: Like other cosmetic procedures, breast augmentation is done under anesthesia. There is a mild discomfort after the procedure, but it is normal and can be managed with the medication prescribed by the surgeon.
The placement of the implant can have an impact on the severity of the soreness. Typically, you will feel sorer if the implants are placed under the pectoralis muscle. This placement is the most popular because it gives one a smoother and more natural look.
You can be up and walking a day after your surgery. However, you should avoid activities that involve bouncing or lifting of more than 10 pounds. You may be recommended to wear sports bra for four to six weeks to provide ample support to your breasts while they're healing.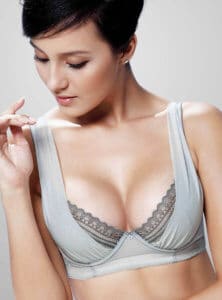 Myth #5: All cosmetic surgeons produce the same breast enhancement results.
Fact: Extensive training and experience are what set highly-rated cosmetic surgeons from the rest. Hence, you shouldn't rush when choosing a cosmetic surgeon to do your breast augmentation as the results differ from one surgeon to another.
Cosmetic procedures like breast augmentation in Singapore is growing. If you wanted to have full, natural-looking breasts, then you better have it done by someone who has undergone extensive training in cosmetic surgery. You should also look for a surgeon who has done a lot of breast enhancement procedures.
Shens Clinic in Singapore offers the best cosmetic procedures. Dr. Shens, the plastic surgery consultant, has done extensive training in and outside the region. Having trained in Korea, Dr. Shens has mastered a lot of Korean techniques in enhancing one's beauty. You will feel safe and well-taken care of in Shens Clinic as Dr. Shens and the rest of the team have done thousands of breast augmentation in Singapore.
References:
http://www.bfar.org/possible-augmentation.php
https://www.plasticsurgery.org/documents/News/Statistics/2016/plastic-surgery-statistics-full-report-2016.pdf
https://www.realself.com/article/breast-augmentation-size-fits