Breast augmentation surgery and breast lift are two highly requested procedures at our clinic. Although they both focus on transforming the breasts, they address different things and use different techniques. To help you find out more about the treatments, we've put together a post that compares them in more detail. Have a look.
How Does Breast Lift Work?
A breast lift is a surgical procedure that removes excess skin and tightens the surrounding tissue to provide elevation of the bust. It enhances the contours of the chest, making it look more young-looking and appealing. In medical jargon, the treatment is called mastopexy. It is done under general or local anaesthesia.
Everything starts with an initial consultation with plastic surgeons and a physical exam. Then, a plan is made for plastic surgery. You will talk about risks, breast shape, volume, scars, incision type, and nipple position. It's vital to understand how weight loss and gain can impact the results in the future.
Patients undertaking the operation usually present with breast ptosis or sagging, which occurs as a result of volume loss and gravity. A typical example of this would be nipples that sit below the breast crease or point downwards.
Breast lifts are often desired by women after going through weight fluctuations in a short period of time. It's also a common request after pregnancy. (Lactating can take a toll on the breasts even if you don't breastfeed.)
Please note: Breast lift surgery is likely to decrease the size of the breasts by half a bra size due to the rearrangement of the breast tissue. However, it is different from breast reduction.
How Does Breast Augmentation Work?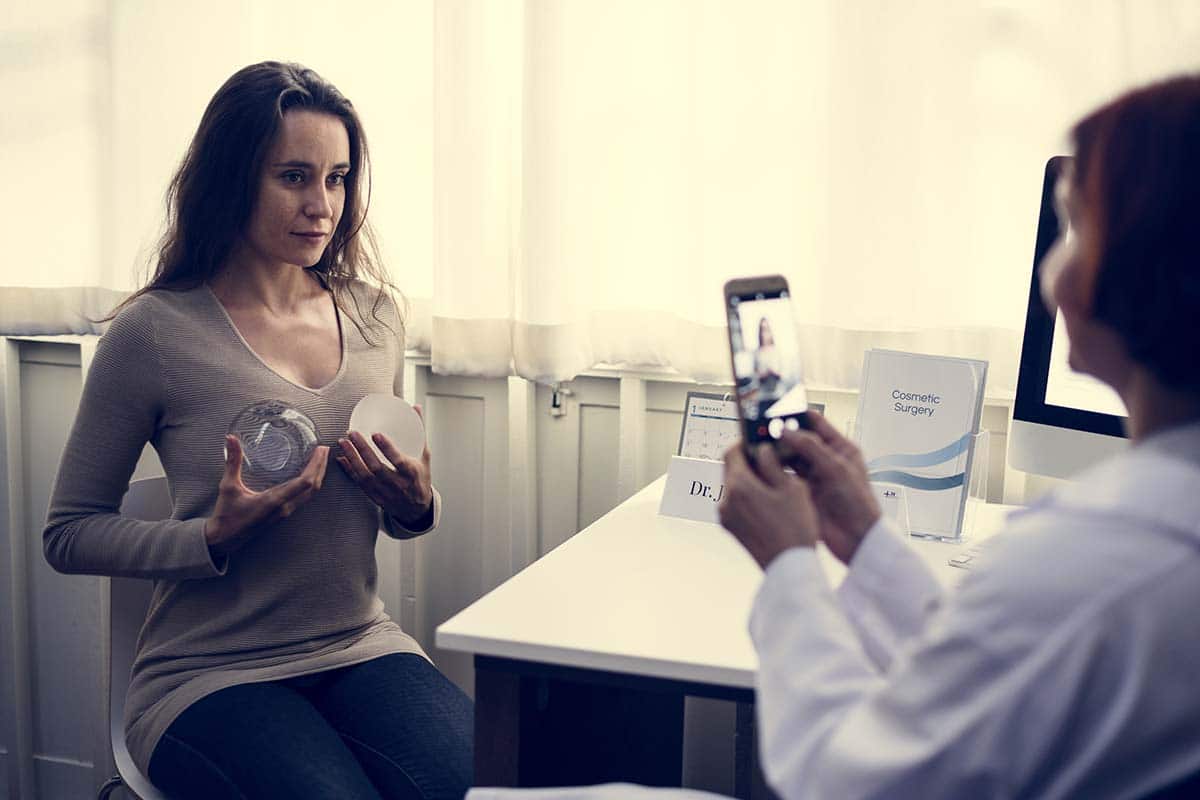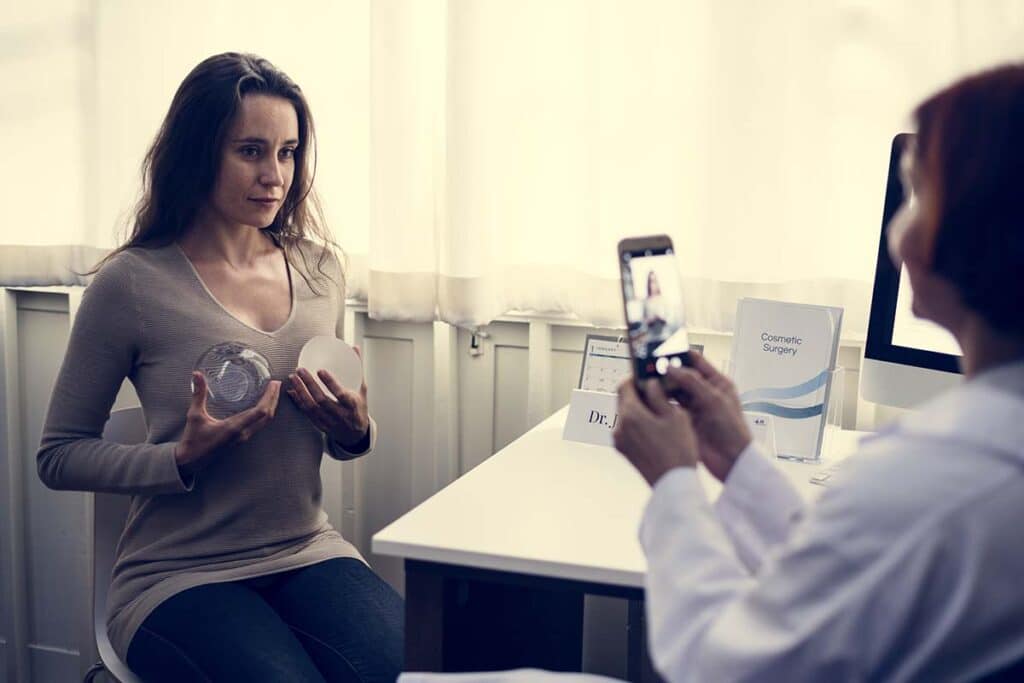 The most common method for breast augmentation in Singapore is through breast implants. They are designated to enhance the breast size and shape but they don't normally provide a lifting effect. In fact, if you experience significant ptosis, implants might make things worse. The procedure is called breast augmentation. It uses silicone or saline implants of different textures, size and shape. Local or general anaesthesia is needed.
There are two types of placements: under or over the muscle. The implants can be inserted in the chest wall via the breast crease, the armpits, or through the areola. Scarring differs depending on the technique of the surgeon and is barely visible.
Further, breast augmentation can be performed via fat transfer, which takes a patient's own matter from one place in the body and transfers it into the bust.
Sometimes both breast augmentation and lift are paired in a surgery called augmentation mastopexy. A good candidate is someone who wants to address severe drooping and small breasts in one go. In order to determine if you are a good candidate for breast procedures, you need to have an initial consultation with plastic surgeons.
This is where you also discuss surgical options, breast shape, implant texture, desired volume, potential complications, results, and incision types, among other things. A few weeks before the treatment, you have to stop smoking and review any medications you are taking.
Advantages of Breast Lift vs Breast Implants
Breast lift surgery
Clothes that fit better around the chest area
Improved symmetry and projection of the breasts
Long-lasting results
Light, hardly visible scar tissue
Upper breast fullness and more youthful appearance
Improved self-confidence
Breast augmentation implant surgery
Change in bra size
Perky, fuller and bigger breasts
Improved self-confidence
Implants are durable and fairly safe
How Long Does a Breast Lift Last?
The results from a breast lift plastic surgery will be visible for many years before ageing takes over. Over time, gravity, weight changes, and loss of elasticity will result in more drooping. The longer you manage to keep your weight stable, the longer you will enjoy the beautiful outcome of the breast procedure.
How Long Do Implants Last?
Both saline and silicone implants are designed to last a lifetime. The problem is, that the longer they sit in the chest, the greater the likelihood of possible complications such as capsular contracture or rupture and leakage.
For this reason, medical communities recommend replacing the implant devices every 10 years. Even so, once you have plastic surgery, it's important to undergo yearly examinations of your breasts to detect potential issues on time.
As far as fat transfer procedures are concerned, there are no such risks over time. Some of the transferred fat is lost in the first few weeks after the treatment and this is normal. The outcomes can be impacted by weight gain.
Cost Factor: Is a Breast Lift Cheaper than Implants?
No. It's quite the opposite actually. A breast lift requires repositioning of the tissue, removing excess skin, and fixing the nipple position. It involves more work than augmentation and is, therefore, more expensive to do. Breast lifts cost around $12,000 in Singapore, while breast implants clock in at $8,000-$10,000. The price is based on geographical area, the experience of the surgeon, and additional charges.
Is a breast lift worth it?
Absolutely. A breast lift can restore the previous fullness and perkiness of your breasts, giving them a young appearance. They will be firmer without the use of breast implants. There will be no foreign objects inside the breast tissue, which means there is no need for replacement surgery in the future. In women with bigger breasts, the treatment may alleviate poor posture and back pain, especially if paired with breast reduction surgery.
Is breast augmentation worth it?
The treatment produces satisfactory results and can be quite helpful in various cases. Some research suggests implants increase body image, self-esteem, and sexual satisfaction. However, patients should be aware of the risks associated with breast augmentation and keep their expectations realistic.
How to Choose Between a Breast Lift and a Boob Job?
To get a better idea of what you need, answer the following questions:
Are you looking to get more breast volume and change your bra cup size? - You need breast implants.
Do you want to eliminate sagging? - A breast lift is better suited for you.
Do you want to eliminate drooping and boost the size and shape of your breasts all at the same time? - You may want to try a combination of breast lift and implant augmentation.
This alone is not going to cut it. You need a medical evaluation to ensure you are a good fit for either treatment. Board-certified plastic surgeons can tell you which is the right procedure for you based on the results you want. They will look for one or more indications for breast lift or breast augmentation surgery.
Criteria for boob lift:
The breasts lack firmness
One breast is different from the other
You like the size of your breasts
The area around the areola and nipple is stretched
The breasts appear droopy and pendulous, and the drooping is moderate to severe
When looking at the breasts, no skin can be seen below the nipples
You want to decrease the size of your areola
Criteria for breast augmentation with implants:
One breast is visibly smaller than the other
You have good skin elasticity
You are self-conscious about your breasts
Nipples don't point downward and are positioned in the centre of the breasts
FAQ on Breast Lift and Breast Augmentation